Cuba won three gold and one silver medal with accurate shots in the shooting event of the 22nd Central American and Caribbean Games in Veracruz, Mexico.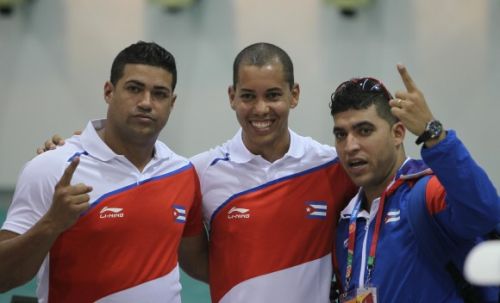 Jorge Grau, in the men's 10 meters air pistol, was one of those who reached the top of the podium –he achieved his fourth title- with a total of 201.1 points, relegating the host Mauricio Morales (196.8) to the second spot.
Roger Daniel (175.8), from Trinidad and Tobago, was the bronze medalist.
In the same event, but by teams, Grau contributed to Cuban squad's success which totaled 1699 units, followed by Venezuela (1694) and Guatemala (1679).
At El Lencero police academy, another representative of the Caribbean island, Reynier Estopiñán –he reached his second title- won the men's 50 meters rifle event with 446.6 points.
The local Luis Emilio Morales (444.8) and Venezuelan Julio Iemma (434.1) gained silver and bronze medals in that order.
Cuba also achieved a silver medal in the same event but by teams escorting Mexico and ahead of Venezuela.
Through these results Cuban shooting increased its harvest to 7 gold, 1 silver and 3 bronze medals to lead by countries escorted by México (3-3-2) and Guatemala (1-2-2).
The Caribbean island aspires to win that sport by nations with more than 10 titles.