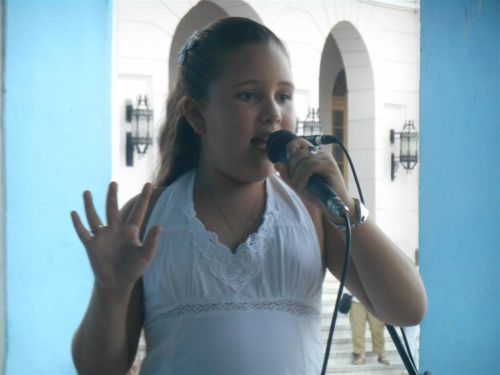 This girl leads the first children circle opened in the city of Sancti Spiritus ever. Her circle is an invitation for other children to share whatever dreams they have.
This is the story of a young girl who's always wanted to be a singer. She's the daughter of a close friend of mine; so, I sort of know the girl very well. Her name is Evana de Nazareth, and lives in Sancti Spiritus.
I remember that when she was just a little kid, she was always looking at herself in the mirror pretending she was an artist. She dressed up for the occasion, and asked her mother for some make up. When she considered she was ready, she took an imaginary microphone in one of her little hands, and began to perform. One more thing, she loved to be looked at. She liked to have an audience.
When she was about 4 years old, she asked for her mother's help to write a short song about a little cat. After that, she hasn't stopped singing, and she's even written several other lyrics. She joined a children's chorus, and has participated in most of the cultural activities held in the primary school where she currently studies. She's also been awarded in several local festivals.
Last October, within the framework of the celebration of the Day of National Culture in Cuba, the local community cultural house decided to allow Evana de Nazareth to have her own circle. This is the first time that a girl runs this kind of project in Sancti Spiritus. The circle is named "Shared dreams", and it's held every second Sunday, around 9:00 in the morning.
As indicated in its name, the circle is an invitation for other children to share whatever dreams they have. That is a right they enjoy in Cuba, a country where children are the most important. Evana de Nazareth and her school and circle friends are good example of what I've just said.
Taken from the blog The Village of the Holy Spirit