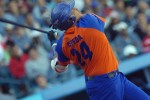 Sancti Spiritus Frederich Cepeda was the first selected for the round to come. Ismel Jimenez will play for the current champions of Villa Clara, Eriel Sanchez will be in Matanzas, and Yunier Mendoza in Santiago de Cuba.
The managers of the best eight teams in Cuban baseball starred on Thursday during the selection of the reinforcements for the second stage of the 53rd National Series, and as expected, hurlers topped the 40-men list with 22, evidenced in the very first round when six of the eight leaders chose starters.
Pinar del Rio Alfonso Urquiola and Artemisa Dany Valdespino were, in my opinion, the managers who made the best choices to better up their teams.
Wolves will certainly be stronger with Vladimir Garcia (CAV), Giorvis Duvergel (GTM), Denis Laza (MAY), Yormani Socarras (CMG) and Roel Santos (GRA). Urquiola guaranteed superb starter and closer, and three outfielders with great possibilities of getting to base.
Hunters Valdespino grabbed Frederich Cepeda (SSP), Yosvani Alarcon (LTU), Jorge Jhonson (LTU), Alexander Ayala (CMG) and Dachel Duquesne (CAV), thus securing the "man of Cuban baseball" in the past years, as well as an excellent outfielder and first batter, a good shortstop and one of the best starters of the season.
Victor Mesa also made a good selection with Yoelkis Cruz (LTU), Carlos Juan Viera (LTU), Lazaro Blanco (GRA), Eriel Sanchez (SSP) and  Mario Batista (MAY). The manager of team Cuba and Crocodiles ensured two openers to accompany his ace Joel Suarez, and held on one of the finest relievers of the current series, as well as mending last year's mistake when he did not choose a 4th batter. His surprise? The lefty from Mayabeque.
Holguin and Industriales played in accordance to their needs. Rookie Irochi Bartutis consolidated his Puppies with Norge Luis Ruiz (CMG), Yordanis Samon (GRA), Leinier Rodriguez (MAY), Danel Castro (LTU) and Guillermo Aviles (GRA), reinforcing the infield and outfield, and getting talented though young starter and closer.
Lazaro Vargas, as in the past season, jumped into hurlers and required the services of Noelvis Entenza (CFG), Vicyohandri Odelin (CMG), Leorisbel Sanchez (CFG), Alexander Rodriguez (GTM) and Elian Leyva (MAY). Some might not agree with his choice of relievers.
Villa Clara, in the voice of Ramon More, got the perfect couple for Freddy Asiel Alvarez, and injection for the relieving staff. However, the line-up does not seem strong enough with the rest of the choices (Ismel Jiménez (SSP), Alain Tamayo (GRA), Yorbis Borroto (CAV), Rudelis Garcia (CAV) and William Luis (CMG)). There were better options for shortstop (Acebey or Ayala) and outfield (Robert Luis Delgado). More needs batting!!!
Santiago de Cuba and Isla de la Juventud seem to be the teams with less optimistic reinforcements. Wasps, in their return to the more demanding stages, will count on Alfredo Despaigne (GRA), Yander Guevara (CAV), Alberto Soto (GRA), Yadir Rabi (CAV) and Yunier Mendoza (SSP), with most critics regarding the pitching and the first baseman. The squad called for shortstop, and a defensive catcher, and maybe starters with better statistics.
Pirates took Ariel Miranda (MAY), Yudiel Rodriguez (LTU), Frank Navarro (GTM), Yoelvis Fiss (CAV) and Marino Luis (CMG). Jhonson's choice of Las Tunas and Guantanamos starters and the third baseman are considered quite controversial.
In the end, names like Dary Bartolome (homerun king in the season), Robert Luis Delgado, Angel Peña, Hector Hernandez and others with good numbers in the qualifying stage were left out.
Taken from the author's blog: www.cubaseballillustrated.wordpress.com