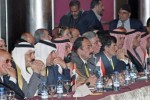 Representatives of the Syrian government and the foreign-backed opposition have met briefly in the Swiss city of Geneva amid heated differences.
The two sides took part on Saturday in talks mediated by UN-Arab League Special Representative for Syria Lakhdar Brahimi at the UN's headquarters in Europe.
The meeting, in which Brahimi was the sole speaker, concluded in less than half an hour.  The two delegations then broke up into two separate rooms with Brahimi shuttling between them.  The two delegations were expected to come together later to discuss humanitarian issues.