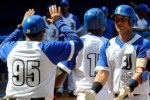 Industriales Blue Lions are the leaders of the 54th Cuban Baseball Season (SNB, for its Spanish acronym) with a 6-0 record and sweeps of Mayabeque and Santiago de Cuba.
After two subseries, the 54 SNB is full of surprising facts: two sweeps by Industriales, four losses of the current champion, Pinar del Rio, and the five consecutive defeats of Santiago de Cuba are some of them.
Besides, who would have expected to see Blue Lions Frank Camilo Morejón at the top of the RBI field with 9, and Granma's hurler Ciro Silvino Licea, who was used always as a starter, leading the saves with 3 along with Matanzas' Felix Fuentes?
Another curiosity comes from the box, as star Freddy Asiel Alvarez, who has thrown 14 scoreless innings (seven against Cienfuegos and Granma) has not had a decision on a game yet.
Alazanes' Roel Santos tops all batters: 591 (22-13), while Las Tunas Yosvani Alarcón leads the homeruns (4), runs (9) and slugging (1000).
As for teams, Las Tunas Leñadores (Woodcutters) head the offensive with a 344 average, 14 doubles and 7 homers, followed by Sancti Spiritus (339) and Guantánamo (313). Villa Clara is the best in the defensive area (996) with only one error in 244 total chances, with Santiago de Cuba (991) and Cienfuegos (987) in second and third place.
Industriales bases its unbeaten condition on a solid pitching with a 1.50 ERA (9 earned runs in 54 innings). Granma (2.55) and Villa Clara (2.63) follow.
The third three-game series start today. Artemisa (3-3) receives regent king Pinar del Rio , Holguin (1-5) will be host to Industriales (6-0), La Isla (3-3) to Guantánamo (3-3), Mayabeque (1-5) to Santiago de Cuba (1-5), Matanzas (4-2) to Cienfuegos (3-3), Sancti Spiritus (4-2) to Granma (4-2), Villa Clara (3-3) to Las Tunas (4-2) and Camaguey (2-4) to Ciego de Avila (4-2).
Translated by Escambray