The development of relations between Cuba and Spain focused the official visit of the Foreign Affairs and Cooperation Minister of that European Nation, Jose Manuel Garcia-Margallo.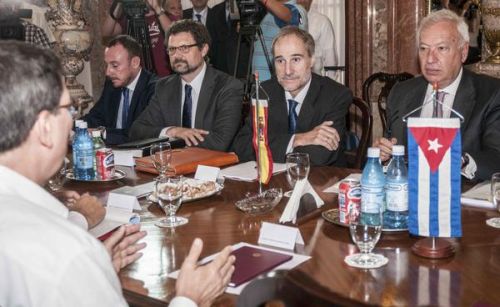 In a statement, at the end of his stay here, Garcia-Margallo highlighted the essential role of Cuba in the community of Latin American nations and emphasized that is trip is involved in the normal bilateral relations and of Spain with the group of Ibero-American countries.
The official held meetings with First Vice President of the island, Miguel Díaz-Canel, Vice President of the Council of Ministers Ricardo Cabrisas and his counterpart Bruno Rodriguez, among other authorities.
Since last April began a round of negotiations between Cuba and the European Union (EU) for an agreement of Political Dialogue and Cooperation, which will benefit both parties, according to specialists.
The island accepted the invitation to start negotiations with the EU from the establishment of reciprocal non-discriminatory bases and of full respect for the sovereign equality of States and the legal framework and institutional order of the Parties, as well as in full compliance with the principle of non-interference in the internal affairs of the States.
Cuba is one of the few countries in the continent that does not have such an agreement in its relations with the EU due to the 'common position', a restrictive policy for interaction with Cuba, adopted by the group in 1996.
The Ambassador and Head of Delegation of the EU in the Caribbean island, Hernán Portocarrero, praised during the last International Fair of Havana, Cuba advantages for investment of foreign capital because of the educational level of its workforce, geographical location, image and its increasing regional integration.