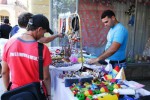 Private business in Cuba have hired a total of 100 thousand 448 employees up to last September, which is in tune with the promotion of
the new non-state employment modality.
Homero Acosta, secretary of the Council of State told reporters in Havana that the Cuban Council of Ministers approved 498 new cooperatives, 283 of them have been already set up particularly in the catering and service sectors.
Major private businesses are operating in the processing and expenditure of food, transportation and house rentals.
At the national level, a total of 473 thousand 475 Cubans have joined non-state jobs and they may apply for the social security system in tune with the Cuban Social Security Law of 2008, Acosta said.
This is a benefit which is rare in other countries where independent workers in the so-called informal sector have no access at the protection offered by the state. And this way, the protection of this kind of labor gains importance in order to favor fair relations between employers and employees.