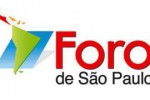 The 20th Sao Paulo Forum starts this Monday in La Paz, Bolivia, with a session on political training, to discuss the development of Latin American and Caribbean integration.
The sessions will last two days, with participants analyzing challenges that the process faces in the region, the current situation of instruments and institutions, challenges and social movements.
The school will also examine the crisis of capitalism, international geopolitics, and prospects for socialism.
As part of the Forum's agenda, there will be parallel meetings on Tuesday, August 26, of the secretaries from the Andean-Amazon, Southern Cone, Mesoamerican, and Caribbean regions, the United States, and Europe, as well as bilateral dialogues among participants.
The Sixth Youth Meeting will begin that day, to examine national policies for young people, their participation as defenders of the progressive processes in Latin America, and their role within the regional integration.
Representatives of 180 parties and progressive social organizations will attend the Sao Paulo Forum for the first time.
The event emerged in 1990 in the Brazilian city by that name, as an initiative of the Workers Party, led at the time by former President Luiz Inacio Lula da Silva, to discuss the international situation.