The experienced cyclist from the Cuban central province of Sancti Spiritus was member of the Cuban quartet that beat Mexico and set a record in the Women's Team Pursuit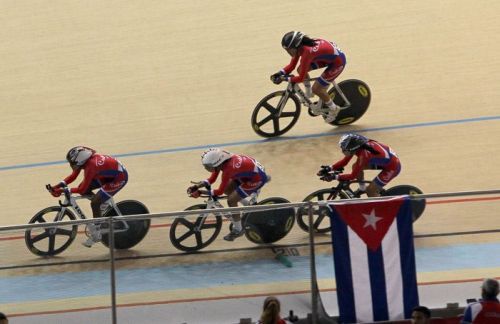 Cuba's representatives in the Women's Team Pursuit event included Marlies Mejías, Arlenis Sierra, Yudelmis Domínguez and Yumari Gonzalez who stopped the clock in 4:31.235 minutes to obtain the gold medal and establish a record in the Central American and Caribbean Games Verzcruz 2014.
Locals Jessica Bonilla, Yarely Salazar, Ingrid Drexel and Mayra del Rocío Rocha had to settle with the silver medal (4:32.956) while the bronze went to Colombians Jannie Milena Salcedo, Valentina Paniagua, Lorena María Vargas and Jessica Marcela Parra (4:35.706).
This was third gold medal for the island nation as Lisandra Guerra had already contributed with two, the first in the Women's Team Sprint event, accompanied by Marlies Mejías, and the second in the 500 m Time Trial. Cuba has also a third place in the scratch with Arlenis Sierra.
Cycling track is dominated by Colombia (3-1-2), followed by Cuba (3-0-1) and Venezuela (2-1-3).