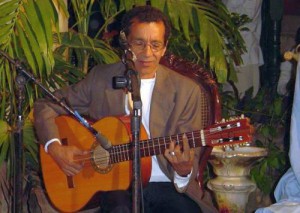 Residents of the Cuban ancient city of Trinidad, mourn the death of renowned musician Pedrito González, who died at the age of 58.
By Carlos Luis Sotolongo Puig
Founder of the Nueva Trova Movement, Pedro Dámaso González Lozano stood out in the musical scenario of the island when in 1971, he and José Ferrer began performing as Escambray duo. For more than 27 years, they made trova music known both in Cuba and abroad.
In 2005, Pedrito was granted the National Culture Award, among many other prizes and recognitions that tell about his musical history of more than four decades.
The people who accompanied him in every celebration of the Week of the Culture, gave him the last goodbye this Monday afternoon.