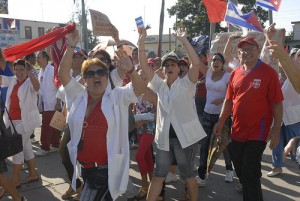 Residents of Sancti Spiritus, central Cuba, will take to the streets and plazas to reaffirm our sovereignty and independence, and to support the economic and social transformations underway in the country, said Domingo Gutiérrez Gutiérrez, secretary general of the Cuban Workers' Trade Union in the territory.
It is expected that over 120 000 locals will take part in the parade scheduled to start around seven o'clock in the morning.
"As it has been already explained, this year's commemoration is especially significant, since we will be all expressing our commitment to make socialism stronger, and to honor the 75th anniversary of the CTC, and the 55th of the Cuban Revolution", pointed out Gutiérrez.
The parade will be led by the health workers, in recognition of their contribution for better health standards. They will be followed by the workers of the sugar trade union, who have accomplished their production plans for seven years in a row.  The builder's bloc will be third for the work so far carried out in the most important investments of the territory.
The march will be closed with a large group of 2 000 young workers and students.
Once the march is over, a big fiesta will be held in all the eight municipalities of the province.