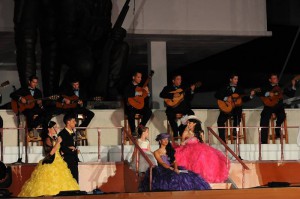 The show took place on Tuesday, June 3rd, at the local Revolution Square.  
The artistic gala to honor the 500th anniversary of Sancti Spiritus, in central Cuba, took place on Tuesday night at the Serafín Sánchez Valdivia Revolution Square, with the attendance of several guests.
The one and a half hour ceremony paid tribute to the 500th birthday of a city founded by Diego Velázquez de Cuellar in 1514, which emerged with an unique idiosyncrasy.
According to Carlos Sotolongo, general director of the gala, the majority of all 700 artists were from Sancti Spiritus, and give the fete a special meaning when they involved in the musical traditions, their development and evolution through centuries.
The show was conceived in five moments: La coraza del guerrero, dealing with the conquer until the key figure of Serafín Sánchez; Ciudad que canta, which pictured Sancti Spiritus music from the 19th century; Del verso a la guitarra, devoted to the city's renowned trova; El gallo que es fino y canta, which made reference to the most popular traditions of the village such as the peasant culture, the rodeo, the Santiago, and the artistic comparsa; La ciudad y sus hijos was the last stage and presented the inheritted traditions through the work of the most young talents of the city.