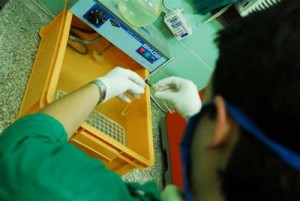 Sancti Spiritus Camilo Cienfuegos Provincial Hospital was the venue of the 2nd Provincial Forum of Immunology, in which local researches and guest participants debated on the recent advances of the speciality.
According to Dr. David Luna Gonzalez, president of the Sancti Spiritus Chapter of the Cuban Society of Immunology, keynote lectures were delivered about modern diagnosis and therapeutics used in several immunological illnesses.
Researchers from the local Center of Genetic Engineering and Biotechnology presented the results attained with the use of Heberprot-p, a Cuban drug which has been proved effective in the treatment of diabetic foot ulcers, as well as an investigation on celiac disease in patients with diabetes mellitus type 2.
The forum also focused on the immunological aspects of the Ebola virus infection, taking into consideration the serious health problem resulting from this epidemic at present time, added Luna Gonzalez.