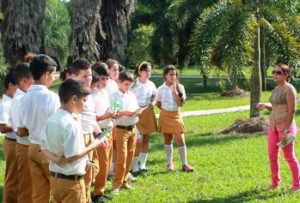 Looking for solution to local problems is the highest priority of scientific centers in Sancti Spiritus, all of which celebrated science day this January 15th.
The commemoration envisaged the recognition of heads of projects, outstanding doctors and teachers, as well as students involved in the scientific practice.
According to Yadira Ramos Francisco, from the local Science and Technology Unit, ruled by the Ministry of Science, Technology, and Environment (CITMA), several actions had been fostered since last November, on occasion of the science day celebration in the territory.
Conferences about archeological sites, talks on environmental topics, contests for children and teenagers, and clean up actions around the botanic garden and the seaside are some of the activities included in the commemoration program.