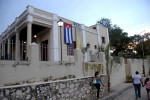 Participants at the 15th national contest on local and community development projects, hosted by the central Cuban city of Sancti Spiritus, considered the event as vital for the creation of values, and the exchange of ideas.
The Guayabera House was the venue of the contest aimed at the acknowledgment of projects committed to environmental improvement, from a cultural general perspective.
The community projects from the western provinces of Mayabeque and Pinar del Rio were awarded the prizes, while Sancti Spiritus's was chosen as the most popular. Participants from the eastern provinces of Guantanamo and Granma were granted mentions.
According to promoters, the meeting also allowed for reflection on existing links with local institutions, and on how to participate in the new economic management model.
Taken from AIN, and translated by Escambray.