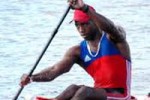 Sancti Spiritus will be present in the 2014 Canoe Sprint World Cup with half the members of the Cuban delegation
The four Cuban canoeists participating in the third stage of the 2014 Canoe Sprint World Cup, based in Szeged, Hungary, will begin today competing in the qualifying rounds of the contest, which finals shall be on Saturday and Sunday.
According to the website of the tournament, more than 350 canoeists and kayakers from 88 countries will seek their tickets today for the medals discussions; in the case of Cubans, this will be an excellent opportunity to train for the Central American and Caribbean Games to be held next November in Veracruz, Mexico.
The duo Serguey Torres and Rolexis Baez in canoe (C-2) will compete in the 1000, 500 and 200 meters, as well as José Carlos Bulnes in the single modality (C-1), while Maikel Zulueta, in the kayak (K-1) will be enrolled in the 1000 and 500 meters.
For Cubans this will be their debut in World Cup stages this year, as they did not attend the events of Milan, Italy, and Racice, in Czech Republic.
Torres and Baez, who will defend the silver and bronze medals they reached in last year's edition, while Bulnes and Zulueta appear among the 15 qualified athletes for the Central American and Caribbean Games, in which Cuban canoeing team aspires to top the podium by nations.
Cuba did not attend the previous event held at Mayaguez, Puerto Rico, in 2010, due to the lack of security for its delegation and now its main rival will be the local canoeists, who won six gold, five silver and one bronze medals on Puerto Rican soil.
Cubans will also have tough rivals in Venezuela, Colombia, the Dominican Republic and Puerto Rico.