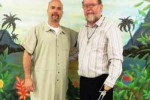 South African Episcopalian priest Michael Lapsley confirmed on Tuesday that he paid his 9th visit to Cuban antiterrorist and hero Gerardo Hernandez.
The South African priest, vice-president of his country's Council of
Churches, told the press that Hernandez continues to be strong thanks to the knowledge that his wife Adriana, his family and the entire Cuban nation are united in the struggle for his freedom, along to that of his comrades, Ramon Labañino and Antonio Guerrero.
Lapsley, also a social justice activist and a former anti-apartheid fighter,
commented that he had visited Cuba two weeks before, so they had a lot to talk about. We talked for three hours. I had the opportunity to tell Gerardo that the issue of the release of The Five is the greatest source of unity in today's Cuba.
Known internationally as The Five, Gerardo, Ramon, Antonio, Fernando
Gonzalez and Rene Gonzalez were arrested in 1998 and condemned to harsh long sentences in a biased trial held in Miami, Florida.
Fernando Gonzalez and Rene Gonzalez already served their sentences and returned to their relatives in Cuba.