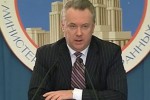 Russian FM spokesman Alexander Lukashevich, reiterated that the U.S. State Department's decision to include Cuba on the list of terrorist sponsoring countries has no basis whatsoever.
Lukashevich said it was further evidence of the lack of willingness by the United States to establish a constructive dialogue with Havana, and an attempt to exert pressure, including sanctions.
Cuba, meanwhile, described as absurd Washington's decision to repeat its inclusion on its State Sponsors of Terrorism list corresponding with 2013.
A statement from Cuba's Ministry of Foreign Affairs (MINREX) makes it clear that the State Department has simultaneously been obliged to recognize Cuba's support and sponsorship of the negotiations between the FARC and the Colombian government, aimed at achieving a peace agreement between the two parties.
MINREX said that once again, political considerations and the need to justify at all costs the failed and internationally rejected economic, commercial and financial blockade against Cuba had prevailed over rationality.