The Valley of the Sugar Mills is a unique landscape created by Mother Nature in the province of Sancti Spiritus. Nearly two centuries ago, this area gave rise to the economic and social flourishing of the village of Trinidad, where this valley is found.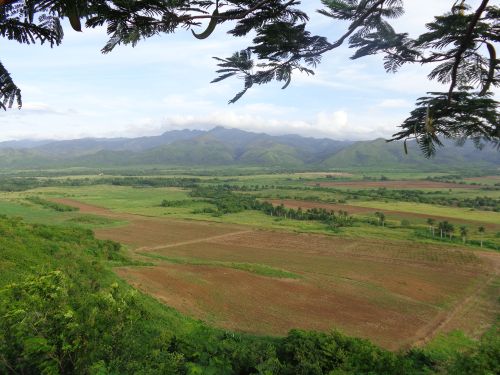 Nevertheless, such an attractive natural site was for years overshadowed when the cultivation of sugar cane, regarded as the emblematic production of the area, was neglected. Even its 1988 World Heritage Site condition was threatened due to this fact.
In recent years, several attempts were made to clear the land of weeds (marabu), but it was not until 2013, prior to the celebration of the 500th anniversary of the ancient village, that a program was finally set to foster the revival of agriculture in the valley.
"The transformation is palpable, the landscape is different now, and you can see the tourist train on its way along the valley", said Manuel Trimiño, who for 19 years has worked in the terrace bar overlooking the valley.
According to Sergio Hernandez Reyes, vice-delegate of agriculture in Sancti Spiritus, the piece of field already recovered for agriculture and livestock production is visible from the terrace, since it's found within the limits of the Valley of San Luis.