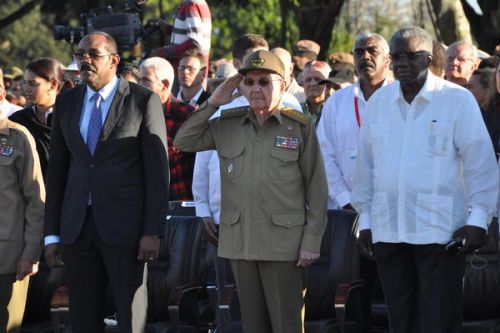 Army General Raul Castro, first secretary of the Central Committee of the Cuban Communist Party and President of the Councils of State and Ministers of Cuba, presided over the political meeting and military ceremony on the occasion of the 118th anniversary of the death in combat of General Antonio Maceo.
Caribbean heads of state on the island for the 5th CARICOM-Cuba Summit to be held on Monday in Havana, also attended the commemoration, which took place at the Mausoleum of El Cacahual, in Havana, where the mortal remains of Maceo, known as El Titan de Bronce, and his assistant, Captain Panchito Gomez Toro, lie.
The tribute was extended to internationalists, on the occasion of the 25th anniversary of the transfer to the homeland of the mortal remains of its internationalist children, in what was known as Operation Tribute.
Also present in these commemorative activities were other leaders of the Cuban Communist Party, the government and the State, heads and officers of armed institutions, and relatives of internationalist combatants who died inAfrican nations, like Angola.
In remarks to participants, Jamaica's Prime Minister Portia Simpson praised the struggle waged by the Cuban people for freedom and for the independence of other nations. Simpson also stressed, on behalf of the Caribbean Community, the role of Cuba´s independence heroes.
The Jamaican premier referred to the support and cooperation offered by Cuba to other countries in need, and its regional integration efforts.
Cuban Vice-President Salvador Valdes thanked the Caribbean Community for its support of Cuba in its efforts to achieve regional integration in the benefit of all. A day like today serves to reaffirm that patriotism and internationalism will exist for ever and a proof of this is the joint efforts by the Caribbean Community and the Bolivarian Alliance for the Peoples of Our Americas in the fight against Ebola, Valdes said.