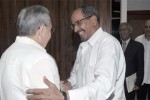 Army General Raul Castro, President of the councils of State and Ministers, met on Monday afternoon with the President of the Sahrawi Arab Democratic Republic, Mohamed Abdelaziz, who is on a working visit to Cuba.
The fraternal meeting made it possible to verify the historic relations of friendship that exist between the two parties and Cuba's support to a fair ad definitive solution to the question of Western Sahara, in a way that the Saharan people's self-determination is guaranteed. President Abdelazis reiterated his country's gratitude for the solidarity of the Cuban people.
Likewise, the occasion was favorable to talk about topics of mutual interest on the international agenda.
The distinguished visitor was accompanied by Mohamed Salem Ould Salek, Minister of Foreign Affairs, and by Melainine Etkana, ambassador of the Sahrawi Arab Democratic Republic to Cuba. Cuba was also represented at the meeting by Foreign Minister Bruno Rodriguez.