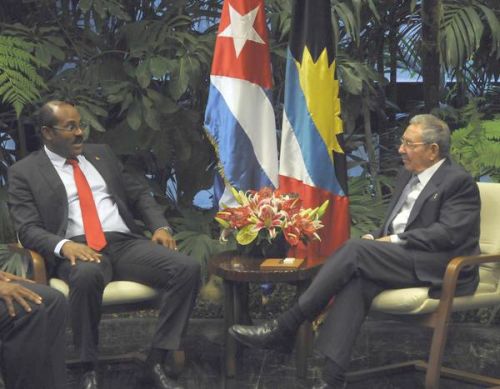 Army General Raul Castro, president of the councils of State and Ministers, held official talks on Sunday morning with Gaston A. Browne, prime minister of Antigua and Barbuda and president Pro Tempore of the Caribbean Community, who is on an official visit to Cuba and heads his delegation to the 5th CARICOM – Cuba Summit.
During the friendly meeting at Revolution Building, the two heads of state showed their satisfaction for the excellent state of bilateral relations, particularly cooperation, which develop in an atmosphere of fraternity. Likewise, they talked about other topics on the regional and international agendas.
Also taking part in the meeting were Henry Charles Fernandez, minister of Foreign Affairs and International Trade; Molwyn Morgorson Joseph, minister of Health and the Environment; Cuban Foreign Minister Bruno Rodriguez, and ambassador Gustavo Daniel Veliz.