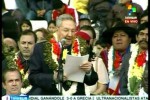 Cuba President Raul Castro called this Saturday to build the Great Homeland, and to defend the unity of Latin American and Caribbean people.
In the speech he delivered at the Social Plurinational Meeting for the Integration of the Peoples, which is part of the G-77 Summit plus China, Raul said that Venezuela deserves the support of the region against the aggressions it's currently faced with.
Taken from Granma and translated by Escambray.