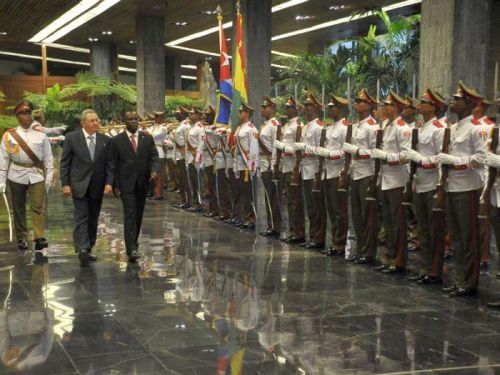 Army General Raul Castro, president of the councils of State and Ministers, received Doctor Keith Mitchell, prime minister of Grenada, at the Palacio de la Revolucion (Revolution Building), who is on an official visit to Cuba and heads the Grenadian delegation to the 5th CARICOM – Cuba Summit.
During the fraternal meeting, held on Sunday, the heads of state verified the excellent state of the bilateral bonds of friendship and cooperation, as well as prospects for their strengthening. Likewise, they spoke about other regional and international topics.
Accompanying the distinguished visitor were Clarice Modeste-Curwen, minister of Foreign Affairs, and Doctor Bert Brathwaite. Cuba was also represented at the meeting by Foreign Minister Bruno Rodriguez and ambassador Maria Caridad Balaguer.