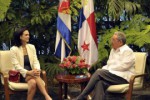 Cuba President Raul Castro met with the Vice-President and Foreign Minister of Panama, Isabel de Saint Malo, who's currently paying a working visit to the island.
In a cordial atmosphere, both authorities talked this Thursday in Havana about regional and international topics.
The Panamanian vice president expressed the interest of her country to foster bilateral relations and to have the presence of Cuba in the next VII Summit of the Americas, to be held next year in Panama. The invitation was welcomed by the Cuban president.
Isabel de Saint Malo was accompanied by Gina Latoni, ambassador in Special Mission and her personal advisor. Cuban Minister of Foreign Relations, Bruno Rodriguez, was also present in the meeting.
Taken from PL and translated by Escambray.