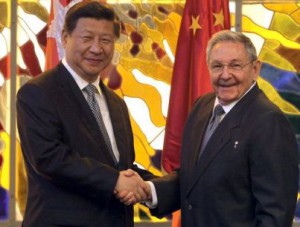 Cuban President Raul Castro welcomed this Tuesday his Chinese counterpart Xi Jinping, who currently pays an official visit to the island.
The fraternal exchange was expression of the excellent state of bilateral relations, and of the brotherhood between the people and governments of China and Cuba.
Fidel Castro Holds Fraternal Meeting with Chinese President
Xi Jinping Congratulates Cuban People for Socialist Achievements
China President Xi Jinping Begins Official Visit to Cuba
Cuba was the first Latin American country in establishing diplomatic relations with China, on September 28, 1960, ties that are currently excellent, especially at the political level between both governments and communist parties, official data state.
Not only Havana, but also Beijing has expressed their willingness to continue developing full and comprehensively bilateral ties.
China is Cuba's second trade partner and important financing source for joint businesses in many spheres, among them biotechnology, transportation, infrastructure, agriculture, tourism, and renewable energies.
The Chinese president arrived in yesterday night at this capital's Jose Marti International Airport, and was welcomed by First Cuban Vice President Miguel Diaz-Canel, and members of the Chinese diplomatic mission in this Caribbean nation.
This is the last stop of his second tour of Latin America and the Caribbean, which also included Brazil, Argentina, and Venezuela.