Army General Raul Castro Ruz, president of the Councils of State and Ministers of the Republic of Cuba, welcomed this Saturday China's State Councilor Yang Ping, who currently pays an official visit to the island.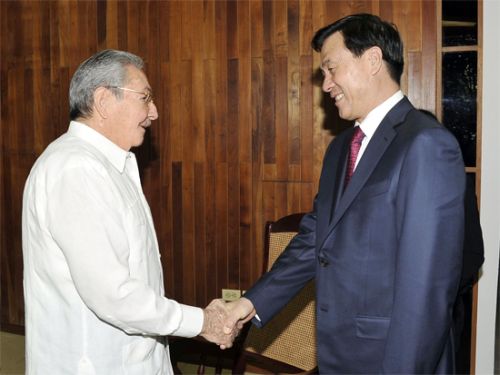 During the meeting, both authorities verified the excellent state of bilateral relations, and the common will to continue fostering them. They also highlighted the coincidences in the political field, and stressed the fruitful exchange of experiences about the respective processes of socialist construction. International issues of common interest were also discussed.
The distinguished visitor was accompanied by Li Zhiyong, executive secretary of the State Agencies' Working Committee at the Central Committee of the Communist Party of China; Song Dahan, general director of the Legislative Affairs Office of the Council of State; Secretary of the Party's Committee of China's Academy of Governance and Vice Rector, Chen Baosheng; and Chinese ambassador to Cuba, Zhang Tuo.
Also present were Bruno Rodríguez Parilla and José Amado Ricardo Guerra, minister of Foreign Relations and secretary of the Council of Ministers, respectively.
Taken from juventudrebelde.cu, and translated by Escambray