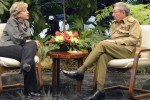 Cuban President Raul Castro received the Executive Secretary of the Economic Commission for Latin America and the Caribbean (ECLAC), Alicia Barcenas, who is on a working visit to Cuba.
During the meeting, held on Tuesday afternoon, they spoke about cooperation relations between Cuba and the ECLAC and the common willingness to continue strengthening them; in this regard, Barcenas said that it's an honor to accompany Cuba in the process of updating of its economic model and ratified the interest of the CEPAL to offer all help possible.
Likewise, they tackled important matters of international and regional topicality, among them Latin American and Caribbean integration.
Accompanying Raul were the Vice-president of the Council of Ministers, Marino Murillo, and the Minister of Foreign Trade and Investment, Rodrigo Malmierca.