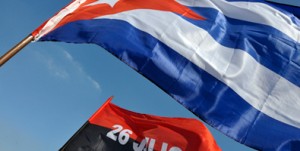 President of the Councils of State and Ministers, Army General Raul Castro Ruz, will give the keynote speech on occasion of the 55th anniversary of the triumph of the Revolution major commemoration.
The ceremony, to be started at 6:00PM today, will be held at the historic Parque Cespedes (Cespedes Park), located in front of the city council headquarters. It was the place from where Commander in Chief Fidel Castro Ruz addressed the people, upon the victorious arrival of the Rebel Army in Santiago de Cuba city. 
The celebration will be attended by commanders and combatants from the Sierra Maestra and the clandestine struggle, along with Party and governmental leaders, over three Santiago de Cuba residents, Cuban heroes' relatives, and other invited guests.  It will be broadcasted live by national radio and television, Radio Havana Cuba, and Cubavision Internacional.
(Taken from Granma, and translated by Escambray)