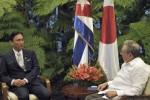 Cuban president Raul Castro met on Friday with visiting Japanese minister Keiji Furuya, who heads Japan-Cuba Friendship Parliamentary League.
During the meeting, Raul Castro and Keiji Furuya expressed their satisfaction about the positive relations between their countries and agreed to further advance bilateral links. They also addressed issues of international interest.
The Japanese minister was accompanied by the vice-president of the Parliamentary organization Yukio Ubukata. On the Cuban side, was first vice-president Miguel Diaz-Canel and foreign minister Bruno Rodriguez.
The Cuban president previously met with the general secretary of the Portuguese Communist Party, Jeronimo de Sousa.
The two leaders exchanged views on different national and international issues and reiterated their willingness to keep strengthening friendly and cooperation relations between the two political organizations.
The meeting was attended by the foreign affairs secretary of the Portuguese Communist Party, Pedro Guerreiro and by the member of the Cuban Communist Party's Secretariat Jose Ramon Balaguer.