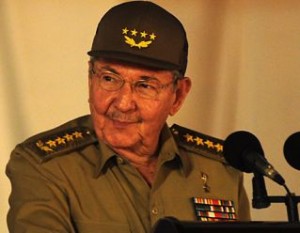 President Raul Castro during the Revolution 55th anniversary commemorationPresident Raul Castro reaffirmed the will of the Cuban Revolution and people of not giving ground to foreign aggressions and threatens, headed to suffocate the island.
During the commemoration of the 55th anniversary of the Cuban Revolution, the dignitary said "The policy of the country is oriented to defend self-determination and national sovereignty, and to promote solidarity to other peoples of the world, especially the Third World countries.
55th Anniversary of the Cuban Revolution Celebration in Santiago de Cuba
President Raul Castro said the Revolution has never asked which side is the one to live better, but where duty really is.
Raul Castro remembered the successive US administrations that tried to put and end to the Revolution at only 90 miles from their national territory.
He made reference to the isolation from other countries to which Cuba was submitted due to pressure by the United States.
"Now, Cuba has a great regional support, is a symbol of humanism and defends ethic and human principles and values.
With this purpose, is getting ready to celebrate the meeting of the Community of Latin American and Caribbean States (CELAC) to continue the forge of unity inside the diversity of our America," he said.
The commemoration was started at the 18:00 hours local time in the Cespedes Park in Santiago de Cuba, a place from where historical Cuban Revolution leader Fidel Castro Ruz spoke to the people of Cuba after the victory of the Rebel Army in 1959.
Leaders of the Cuban Communist Party, top officials, members of the government, relatives of national heroes and a representation of the people of Santiago de Cuba attended the act.
[nggallery id=82]