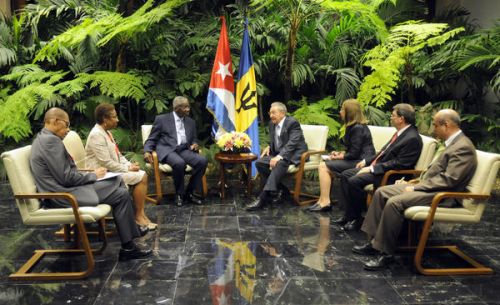 Army General Raul Castro, president of the Councils of State and Ministers, held official talks on Sunday at Revolution Building with Freundel Stuart, prime minister of Barbados, who is on an official visit to Cuba and heads the Barbadian delegation to the 5th CARICOM-Cuba Summit.During the cordial meeting, the two heads of state spoke about the excellent state of the traditional relations of friendship and cooperation uniting the two nations, and reiterated the mutual willingness to continue developing them. Likewise, they talked about topics on the regional and international agendas.
The distinguished visitor was accompanied by Sonja Welch, permanent secretary of the Prime Minister's Office, and by Charles Bournett, permanent secretary of the Minister of Foreign Affairs and Foreign Trade.
Also representing Cuba at the meeting were Foreign Minister Bruno Rodriguez and ambassador Francisco Fernandez.