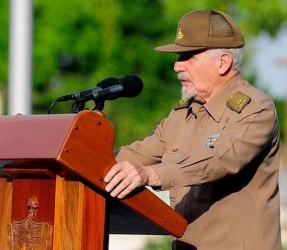 Ramiro Valdes expressed that there is no place for despondency in our hearts
Commander of the Revolution Ramiro Valdes Menéndez, member of the Politburo, and vice-president of the councils of State and Ministers, delivered the key speech at the rally held in the Cuban western province of Artemisa, to commemorate the 61st anniversary of the 26th of July events.
Valdés Menéndez, who participated himself in the attack on Moncada garrison, recalled the opprobrious condition of the island back in 1953, when the members of the so-called Generation of Jose Marti Centennial, decided to carry out armed insurrection to save the homeland.
Raul Castro Attends Rally to Mark Moncada Garrison Attack 61st Anniversary
He referred to the hard history of struggle until the triumph achieved on January, 1959, and to the difficult years that followed, in order to bring the Revolution up to present days.
The leader expressed satisfaction and pride for being a native of Artemisa, the island's location which offered most heroes and martyrs to the 26th of July actions. Artemisa has always been there to fulfil any task requested by the glorious Cuban Revolution.
Commander Ramiro Valdes also mention the daily battles to cope with the country's development program, which is based on the fulfilment of the Guidelines of the Economic and Social Policy of the Party and the Revolution, endorsed in the VI Congress of the Party.  Artemisa is a good example in the fulfilment of such tasks and guidelines.
Photos taken from AIN and from Periodico Artemisa on Facebook.