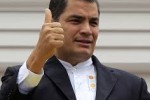 Ecuador's President Rafael Correa said that Cuba is a champion of international collaboration.
Cuban Health Cooperation with Ecuador Increases

During his Saturday report to the nation, Correa praised the support offered by Cuba as he referred to the new 200-medical contingent that recently arrived in his country to assist Ecuadorians in vulnerable and remote areas.
The head of state congratulated his country's Health Ministry for its advancement in the bilateral cooperation program with Cuba, which has included the services of over one thousand health specialists from the Caribbean island in the South American nation.