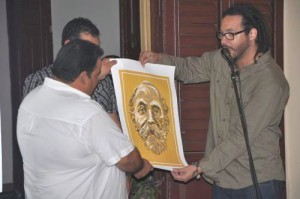 The 48 members of the Puerto Rican Juan Rius Rivera Solidarity-with-Cuba Brigade, who currently visit Sancti Spiritus, held a meeting with representatives of the Cuban Institute of Friendship with the Peoples (ICAP) in the headquarters of that institution.
Since their arrival in this central Cuban city last Saturday, they've been engaged in the fulfilment of a busy agenda which included a visit to Camilo Cienfuegos Memorial, in the municipality of Yaguajay, and to the former tyranny barrack that was later on turned into Joaquin Paneca Municipal Hospital.
On behalf of the friendly visitors, Maribel Rosales talked about independent fighter Oscar Collazo, on occasion of his centennial, while other speaker referred to Lolita Lebrón, another important figure in the history of Puerto Rico.
ICAP delegate in the territory, Raul Cardoso Cabrera, was presented with a poster-size image of Porto Rico leader Eugenio María de Hostos.
Besides the visit to Yaguajay, the members of the brigade went to the municipality of Cabaiguan, attended a cultural act at the House of the Guayabera, in Sancti Spiritus city, and will tour the southern territory of Trinidad.
Members of the Puerto Rican Juan Rius Rivera Solidarity-with-Cuba Brigade when visiting Camilo Cienfuegos Memorial, in the municipality of Yaguajay. (Photos: Oscar Alfonso Sosa)