Over one hundred people were arrested during the three days of violent protests in Ferguson, after a grand jury exonerated the police killing of a young African American in August.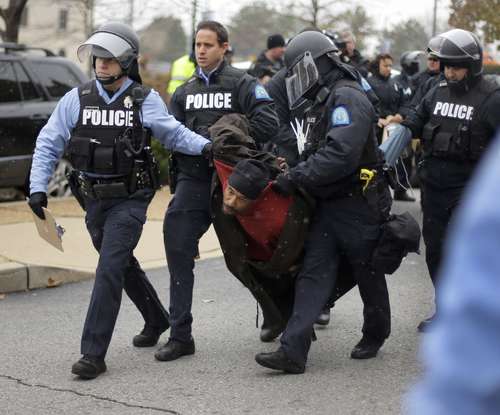 Spokesmen for the police department in St. Louis confirmed Monday night when the riots began, 66 people were arrested, while 12 buildings torched, three patrol cars destroyed and countless businesses looted were reported.
During the second day of protests, police arrested 61 other people, after protesters burned another police car, threw rocks and bottles and smashed windows of the city hall.
Law enforcement officers used tear gas and pepper spray to disperse the protesters, and seized a Molotov cocktail and two pistols in possession of some participants in the protests.
Ron Johnson, captain of the Missouri Highway Patrol, said officers "had not seen anything of this magnitude."
Meanwhile, the police chief of St. Louis, Jon Belmar, confirmed Tuesday there were 21 fires and 61 arrests, 32 of them by vandalism and theft.
He added that three officers were injured in the riots that spread in an area of four square kilometers.
The protests spread to 170 cities in 37 states across the country, where thousands of people closed roads and bridges to demand justice for the murder of an 18 year-old African-American by the police.