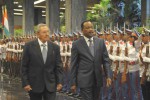 Nigerian President Issoufou Mahamadou described his official visit to Cuba this week as excellent and he said he was optimistic about the
future of bilateral relations between the two countries.
Speaking to reporters at Havana's International Airport before leaving the island, Mahamodou said his meeting on Wednesday with Cuban President Raul Castro was very fruitful and marked by frankness and friendship.
The African leader added that following his talks with Raul Castro, Cuba will expand health cooperation with Niger, which will include an increasing presence of Cuban medical personnel in his country.
The head of state, 62, arrived in Havana last Sunday and met an official agenda that included visits to scientific, health and academic centers. He also met with several Cuban government officials.