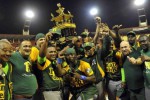 Pinar del Rio was crowned as champion of the 53rd Cuban Baseball National Season in the Victoria Giron Park, by beating Matanzas 9-6 in the 6th game of the Great Final held between these two teams from the Western region.With 3-2 record, the Green Wolves forgot about their visitor condition and defeated Crocodiles, who were left with the desire of tying actions and extending the last confrontation to Thursday.
The squad from the land of the best tobacco, as it is also known, shot 12 hits, including grand slam of Luis Alberto Valdes, and solo homer by Lorenzo Quintana. For Matanzas, Roosters' Eriel Sanchez closed in the score (7-5) with a two-run blast.
Pinar del Rio currently holds 4 titles, after being kings in the series of 1997, 1998, and 2011. However, the province counts on six more under the name of Vegueros in the years 1978, 1981, 1982, 1985, 1987 and 1988.