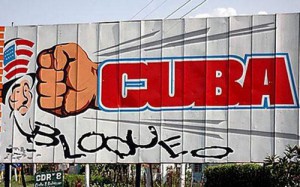 With more elements than ever before concerning what Washington calls embargo, the General Assembly of the United Nations will analyze this Tuesday, and will vote for the 23rd consecutive time, on the US blockade on Cuba issue, which is expected to be a resounding victory against that hostile policy.
Greater condemnation of such a stunt is also awaited. This fact was already tackled in an editorial published in The Washington Post last October 4th, followed by The New York Times's three consecutive articles dedicated to Cuba, one of them praising the contribution of the island in the fight against Ebola.
The US blockade on Cuba has been criticized by several political personalities in America, such as former State Secretary, Hillary Clinton, and former Governor of the State of Florida, Charlie Crist.
Likewise, in a previous analysis on the issue made at UN, several ambassadors, most of them from Latin America, openly expressed their rejection to the US practice, since it violates the Charter of the United Nations, the international legal basis that rule relations between the states, and the precepts of the World Trade Organization (WTO), among others.
After having carried out actions as negative as the exorbitant fines imposed by the US Office of Foreign Assets Control (OFAC) on the BNP Paribas, and the pressures on the Bank of Ireland, among other hostile acts against the Cuban island, the United States have generated greater opposition among its EU associates.
Therefore, an overwhelming condemnation of the US unilateral policy against the Caribbean island is expected today at UN General Assembly.