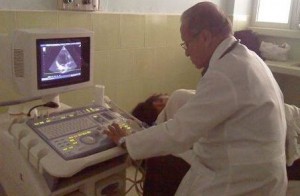 Over a hundred cardiovascular patients are implanted pacemakers in Sancti Spiritus every year.
This device improves the quality of life of those who suffer from coronary diseases, the second cause of death reported in this central Cuban province.
The statement was made by Dr. Manuel Lage Meneses, chief of Cardiology Services at Camilo Cienfuegos Provincial Hospital, when interviewed by Radio Sancti Spiritus. This service is one of the most exploited at the moment, and the amount of implanted devices should increase in the near future, he added.
According to Dr. Lage, the early diagnosis of the disorder is essential for the success of the transplant, along with the reformation of dietary habits, and other healthy life style in order to improve life quality.
The pacemaker is a pulse generator electronic device, which was first implanted in a Cuban patient in 1964. It artificially and rhythmically pulses the heart, when the natural pacemakers of this vital organ are unable to keep adequate rhythm and frequency.
Taken from Radio Sancti Spiritus, and translated by Escambray.