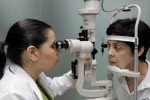 More than 21 thousand Paraguayan citizens improved or recovered their sight after undergoing surgery applied by Cuban specialists at the Cuban Eye-treatment center operating in Paraguay.
Center director Boris Carballo told local media in Asuncion about the free-of-charge eye treatment program underway in that nation, which has been welcomed by the Paraguayan people.
A group of 50 thousand Cuban health workers are currently offering their services in different countries of the world, while about one thousand Paraguayan youths have graduated from Cuban medical schools or are taking medicine courses on the island.