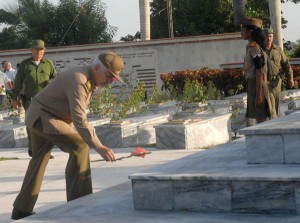 The ceremony was held at Las Villas North Front Mausoleum.
Las Villas North Front Mausoleum in Yaguajay
The remains of nearly twenty combatants fallen during the liberation war, or after the triumph of the Revolution, were buried this Tuesday with military honours at Las Villas North Front Mausoleum, in Yaguajay, Sancti Spiritus.
The ceremony was attended by founders of the North Front, local combatants and workers who have fulfilled missions abroad, and relatives of the fallen fighters.
Constituted back in 1958, the North Front grouped together the members of the Antonio Maceo Column 2, and those from Máximo Gómez, Popular Socialist Party, Marcelo Salado, and 26th of July Movement groups.
Under the leadership of Commander Camilo Cienfuegos, the Front launched an offensive against the forces of the dictatorship, which led to the liberation of the towns of Venegas, Iguará, Meneses, Mayajigua, Zulueta within months. Later on, on December 31st, 1958, after ten days of fighting, Yaguajay barracks's forces surrendered.
The feeling of unity that existed among Las Villas North Front fighters was immortalized five years ago, by architect Pedro Pérez Agudín, plastic artist Thelvia Marín, and the people who built the bronze and marble mausoleum.
[nggallery id=96]