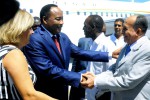 Niger President Issoufou Mahamadou arrived Sunday on an official visit to Cuba aimed at strengthening bilateral relations.
Mahamadou, who was welcomed at Havana's Jose Marti International Airport by Deputy Foreign Minister Ana Teresita Gonzalez and by diplomats of his country in Cuba, is scheduled to hold official talks with President Raul Castro and visit centers of interest for medical cooperartion.
The arrival by Mahamodou in Cuba follows the visits here by the presidents of Ecuatorial Guinea and Namibia.
Niger and Cuba established full diplomatic relations in 1976. At present the two nations enjoy strong collaboration relations mutual and social benefit.