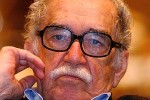 The 36th edition of Havana's International Festival of the New Latin American Cinema will be dedicated to Colombian writer Gabriel Garcia Marquez as informed by organizers of the cultural event.
Ivan Giroud, director of the Festival Center, made the announcement during the presentation on Monday of the book Homenaje a Alfredo Guevara (Tribute to Alfredo Guevara).
Alfredo and Gabo are very united in the life and history of the New Latin American Cinema; both of them were, perhaps, its two most solid columns, asserted Giroud, who previously told these words to the novelist's widow, Mercedes Barcha, and to her children Rodrigo and Gonzalo.
He considered that it was impossible to honor Guevara (who died last year) without highlighting "the colossal role" played by Garcia Marquez in this movement, in favor of at least a different if not better cinema.