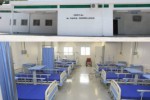 Haiti opened its third public hospital, as part of this country's cooperation with Cuba and Brazil following the massive earthquake that struck on January 12th, 2010.
The new hospital, opened yesterday with Haitian President Michel Martelly in attendance, is located in Carrefour, west of the capital city, where it will benefit more than 60,000 people.
Martelly reiterated the huge significance that Cuban collaboration has had for his country, not only in the health sector but also in education, fishing, construction and agriculture.
Meanwhile, Florence Guillaume Duperval, Health Minister, highlighted the importance for the country of centers like this, with the latest technology.