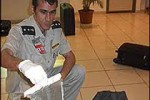 The most recently announced regulations by the Cuban Customs Office got in force this Monday, September 1, as they limit the number of
non-commercial imports by individuals.
The regulations are contained in resolutions by Customs and by the Ministry of Finance and Prices and include a list of values set by the Customs Office and the amount, cost and exemptions related to tariffs for the products sent via postal, air or maritime services.
According to the new measures, the travelers' luggage, not including personal items, will not exceed the value of one thousand pesos, with the pay exemption for the first fifty pesos.
The commercial character of imports is in tune with the amount of the same item or product, its nature, function or reiterated imports of the same item, the regulations establish. They also include a list of values for the articles, to be considered in case the traveler's statement or the purchase bill is not accepted as the document to pay Customs tariffs.
Personal items, including clothes, shoes, a cell phone, multimedia equipment, a portable TV set, a laptop, a photo camera and food are also exempt of cost.
Travelers can also freely import up to 10 kilograms of medicines, not included in the main luggage, prosthesis, wheel chair, disposable diapers and similar items, along with any teaching means.