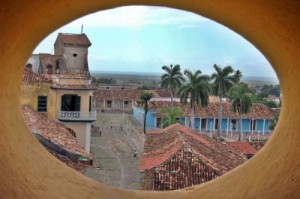 Sticked to its own traditions, Trinidad features sites that allow visitors go back centuries. But not only its architectural values are worth noting; the village also has an outstanding intangible cultural heritage.
Sancti Spiritus's Luminaria Publishing House honored the history and traditions of the southern village with the publication of two books, Vox populi trinitaria, by Ricardo Reyes, and 500 Trinidad, a compilation made by Barbara Venegas.
The first book gets the readers into the living words of ordinary citizens. It brings together words originated from locals' idiosyncrasy, vendor's cries and nicknames. Dr. Gema Valdes Acosta, who wrote the prologue of the book, said "it is a small catauro of Trinidad'd linguistic heritage, which is as valuable as the architectural one".
500 Trinidad is sort of editorial remainder which enhances the cultural and historic values of the third village founded in Cuba. The characteristics of traditional houses, the former sugar mills, the development of the theater in colonial times, as well as the cartography of the city's southern coasts and sea make up the collection included in this book.
Along with the wooden balustrades, the centenary dust coats, and the bars in front of colonial façades, Trinidad local speech is also authentic. The sum of all these elements makes up the editorial present of Luminaria to colonial Trinidad.