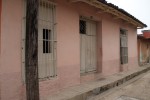 This dwelling is said to have been built back in 1690, only ten years after the local Mayor Parochial Church.
Among the hundred over-a-century-year-old buildings in Sancti Spiritus, the Iglesia Parroquial Mayor (Mayor Parochial Church) outstands for being regarded as the highest, and oldest. It is said to have been built sometime between June and September, 1680.
Nevertheless, very few people here know that the oldest house in town is a modest dwelling found at 119, Gilberto Zequeira Street (best known as Santa Barbara). Local Historian María Antonieta Jiménez Margolles (Ñeñeca) said that the late former owner of the house showed her a title deed dated 1690.
So, if it were the case, this house would only be ten years younger than the emblematic church, and would set standards among the ones of its type.
Taking into consideration that the Mayor Parochial Church is regarded as the oldest building in Sancti Spiritus among those with religious purposes, and that the abovementioned house is the oldest dwelling, we might wonder which are next in time.
According to Margolles, the oldest civil construction is the San Juan de Dios Hospital, located at the corner of Frank Pais and Luz Caballero Streets. She said this facility was first opened in 1712, and was built with a donation from priest Silvestre Alonso Muñoz, also responsible for the construction of the San Francisco Monastery, in 1716. This religious residence, which doesn't exist anymore, was furnished with classrooms for teaching purposes.
But many of the old large dwellings were turned into social facilities. It was the case of the building where the School of Economy is now at, said local architect Roberto Vitlloch. He explained that in this city, it is common to find superposition of epochs in one and the same location, "for example, the Provincial Museum of History, across from the Serafín Sánchez Park, was built in 1740, thus being a XVIII century building, nevertheless, its façade has a XIX century style".
Vitlloch also mentioned the large eclectic porch outside El Convenio store. This porch was made at the end of the XIX century or the beginning of the XX, but the façade of this building features elements from the XVIII century together with others from the XVII, like the windowsill.
Finally, the architect referred to the way in which people have been changing the roofs of their houses, a practice that is considered a threat to local legacy.