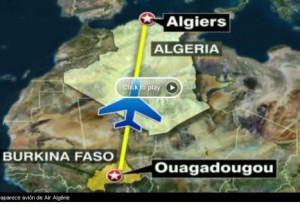 CNN news agency spread the news that Mariela Castro was one of the passengers onboard the Air Algerie plane that crashed in Africa this Thursday.
Cuban deputy Mariela Castro Espín, director of the National Center for Sexual Education (Cenesex), was not onboard the Air Algerie flight that disappeared from radar while flying from Burkina Faso to Algerie, as it was published by CNN.
Although Escambray could not talk in person with Castro Espín, Cenesex security chief, Ramiro Calá, confirmed her attendance this noon to an event underway in Havana's Hotel Nacional de Cuba, which was also corroborated by sources of the prestigious tourism facility.
According to CNN, "the airport at Ouagadougou, capital and main city of Burkina Faso, published an update in its Facebook page saying that Mariela Castro, daughter of Cuban President Raul Castro, was on board the crashed plane".
The Air Algerie AH 5017 flight, which carried 116 passengers, left from Burkina Faso, and lost contact with the radar 50 minutes after take off, early this Thursday.  It was scheduled to arrive in Houari Boumediene airport, in Argel, four hours later.