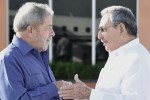 Cuban President Raul Castro accompanied former Brazilian Head of State Luiz Inacio Lula da Silva to Havana's Jose Marti International airport on his way back home, after having paid a visit to Cuba this week.
During his visit to the island, Lula toured places of economic interest, such as the Mariel Special Development Zone, to the west of Havana. He also met with local entrepreneurs and Cuban authorities and he gave a key-note lecture at Havana's National Hotel on Brazil's experience in attracting foreign investment.
Lula also visited several agricultural farms in the central-eastern province of Ciego de Avila, which specialize in the production of beans and grains.